Now you can say goodbye to beige and plain walls. Walls are no longer just areas where you can hang things you like or attractive to your eyes. You can now use your walls to reflect who your personality.
From the classic wallpaper to extravagant neon colors, you can now make a bold statement out of your walls.
Wall Decoration Ideas You Can Try
Here are some ways to make every wall in your home stand out like a museum of your personal style and spirit.
Photo Wall
One of the secrets to a perfect-looking wall is to have them professionally designed and installed. You also need to make your photo walls look effortless. You can experiment with your style and color in displaying the photos.
We suggest choosing a group of frames in a variety of metal finishes since mixing metals is now getting popular. If you need some ideas, you can check Widdlytinks my stick family signs.
Statement Prints
The world of fashion statement has also included decoration. That's why it's only natural that statement prints are the new photo walls.
Black and white never go out of style. You can use prints with sayings on them and either creating a large grid of photographs that you can hang using gallery style.
Neon
Back in the days, neon was only used for commercial signs. It was a popular choice for frat house décor. Today, neon is considered the perfect mix of modern sophistication and fun. It adds a funky part of your personality to any room you use it.
If you want to use neon at home, keep the colors cohesive, and leave the focus to one piece. Otherwise, neon will look cluttered.
Wallpaper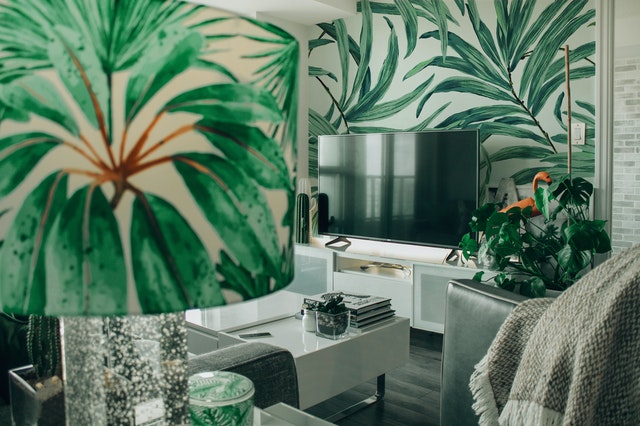 Wallpaper is always in-trend and sticking around. While applying wallpaper used to require skills, the new wallpapers today have changed everything. The peel and stick wallpaper allow anyone to transform a room whatever style they want.
It is also used for renters. All you need to do is choose your wallpaper, measure your walls, send the measurements to the manufacturer, and you're done.
While wallpaper is a beauty on its own, try to keep it simple when mixing it with other decorations. You can hang an elegant or attractive mirror on top and some key pieces to complete the look.
Sconces
Your entryways are the first things that leave an impression on your guests. Unfortunately, they often get overlooked.
Some entryways have a primary source of light, like chandeliers, foyer pendants, and others. However, adding a wall sconce to this are can make it cozier and more welcoming.
Sconces are also ideal for small bedrooms where you may not have a room for a nightstand.
Mirrors
When you have a small area or prefer a more minimalist look, try adding a mirror. A mirror adds depth and light instantly to any room. It provides a larger and brighter feel. You can try experimenting with the size, shape, and directional hang off the mirror to achieve a variety of looks.