It is common knowledge that most college students today struggle with financial problems and find it difficult in meeting their financial obligations while in college. Coupled with the increasing cost for college education, a lot of these students are handicapped with huge loan bills to pay upon graduation.
In order to soften the financial burdens on their shoulders, college students are beginning to start and run small business while still in school. The advantages of this approach are quite enormous, asides easing the financial burden on the shoulders of college students, it also provides these students with a chance to improve their practical business acumen and develop their overall business competence.
Let's take a look at some fantastic fun business ideas for students in college looking to increase their income and earning potential;
1. Web Development:
Computer Science majors and other tech savvy students can earn a respectable income by running a web development start-up.  You can offer services like designing simple company logos and websites to more complex solutions like complete e-commerce platforms and large websites. All you require are skills and proficiency in HTML, JavaScript and other related web development tools. If you own a Personal Computer and all the necessary software, you have reduced your start-up capital to the barest minimum.
For those who are interested in taking it a step further, you can join forces with other students and launch your own application and offer specialized services. This approach would require a lot of commitment in terms of time, costs and general overhead. Nevertheless, the potential for growth using this approach is limitless with very high rewards. Google, and Facebook just to mention a few, are example of start-ups that were founded by college students.
2. Personal Tutor:
As an entrepreneur, any business you venture into should replicate your special or personal skills. As a student, working as a personal tutor for other students in your field of specialization could be very lucrative.
Although there are several colleges that run free tutoring services, access to these services are usually limited due to constraint like time and schedule. Running a personal tutoring service gives you the opportunity to offer personal services that will fit in perfectly with a typical student's schedule.
As your personal tutoring service grows, you can begin to broaden your reach by targeting other students who aren't yet in college. Parents of high school children are usually interested in college students who could tutor and mentor their children and help out with their application essays. You can also leverage on social media to do your advertising. One advantage of being a personal tutor is that its overhead is minimal as it requires little to no overhead cost as such most of your revenue can be categorized as profit.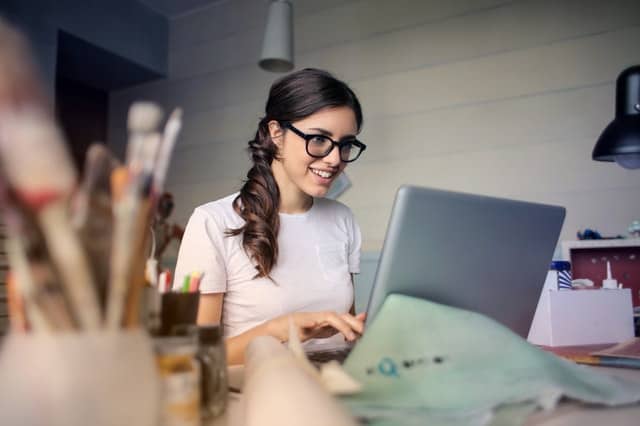 3. Dropshipping:
A lot of college students might not be familiar with the idea of dropshipping. This is a method of fulfilling retail purchases in stores that doesn't hold a physical stock of its inventory. What happens is, when an order is made from a store, the item is purchased from a third party vendor who delivers directly to the customer. What this implies is that the seller doesn't see or come in direct contact with good or item purchased.
The main difference between normal retailing model and dropshipping is in dropshipping seller does not maintain a physical stock of its inventory or in other words the seller doesn't own its inventory, rather it purchases goods from a third party vendor typically a manufacturer or a wholesaler.
There are applications like the EMERGE app which allows you to carry out dropshipping services. The application is ideal for growing your small business, it helps in handling purchases, inventory & order management, making it very easy to keep track of your sales and profit margin.
One of the advantages of dropshipping is that it requires little to no overhead cost and is ideal for college students as it doesn't require much commitment on your part.
4. Cleaning services
Student aren't usually the cleanest people around, as a matter of fact they find it tiring carrying out their household chores by themselves. So if you are good with a mop and brush you could earn some cash cleaning homes and apartments for other students around campus.
Like several other businesses, it is easier to start by offering your services to your family and friends around campus, you can then scale up once you have built a sterling reputation. Hiring or paying for a professional cleaning service might be above the means of a college student, so you might be able to win over some clients by offering your services at relatively lower prices.
Just like a lot of the fun business ideas introduced in this write-up, running a cleaning service requires minimal to no start-up capital, all that is required is a few cleaning materials or you could even use your clients cleaning materials in exchange for discounted prices. As your business grows, you can begin employing the services of other students who are interested in earning an income.
5. Transportation and Logistics
As a college student who owns a car, you can take advantage of ride sharing services like Uber and earn extra cash by providing transportation services within your campus and the local community. Uber categorizes its drivers as autonomous contractors, so essentially being an
Uber driver as a college student automatically makes you a small business entrepreneur.
You can also use your car to run pick-up and delivery in areas where logistic services aren't so smooth, for example you could offer to deliver take outs from fast food and nearby restaurants.
There are enormous opportunities in transportation and logistics.
Unlike other ideas that have been introduced in this write-up, transportation and logistics usually requires huge start-up capital and overhead cost. In addition, you might also require specific licenses and insurance cover to be able to run commercial transportation services.
With the increasing price of college tuition, several college students are finding it difficult to meet up to their financial obligations. Rather than accumulating huge debts as a result of student loans, you could consider venturing into one of the fun business ideas discussed above to assist you while in college.