It's that time again, guys. Every four years it seems everyone is chatting about the goings on at the Winter Olympics. From the office kitchen natter to your partner's parents, the topic cannot be avoided. The problem is, you just couldn't care less about people sliding around in lycra. Never fear though, to avoid looking like an idiot in front of everyone and having to go and hibernate in shame until the next four years' winter wonderfest slides round again, here's a list of main talking points and controversies to see you through the minefield of the Pyeongchang Winter Olympics 2018 without slipping up. Follow this survival guide and you're sure to get ten out of ten from the judges and nods of approval from you colleagues and acquaintances as you blow them away in a blizzard of facts and an avalanche of fascinating, snowy trivia.
1. Where else to begin this year than with the reunification of North and South Korea as they walk out under a unification flag for the first time and even make a mixed women's hockey team. The fact the girls are down to get destroyed by the other teams hopefully won't be a president for the rest of this venture. At least they'll be on the podium for diplomatic gold if they manage to get to the end without a nuclear war.
2. It wouldn't be the Olympics without plucky participants from countries you'd never expect to enter trying their best and failing lovably. This year is no exception with Ghanaian Frimpong getting more plaudits for his dancing than actual bobsleighing. Meanwhile Pita Taufatofua, from Tonga, more famous for strutting around the opening ceremony oiled up like a chip and competing previously in martial arts, took part in the cross country skiing 23 minutes after the winner having never even seen snow in real life until two months ago. Apparently his aim was to finish before it got dark and not hit a tree. However, Pita was not the worst as 43-year-old German Madrazo from Mexico got the wooden ski in 115th place. These guys' dream was to inspire others and show that anyone can strap on a pair of skis, even if it's just for fun and in that regard, both share podium spot. Finally, the Jamaican bobsleigh team are the epitome of this spirit of have-a-go heroes famed for the film Cool Runnings all the way back in 1993. However, this year's women's team may have got the storyline for a sequel as their old manager took their sled with her in a huff. Now they have nothing to ride down unless they can find a new one that passes all the requirements. Even then they need to practice for the trials beforehand. At this rate, they could be nicking the bath from the Olympic village!
3. The Norwegians curling team's trousers definitely deserve a mention. These guys look like a Charlie Chalk tribute act that got lost on the way to a kid in Seoul's birthday party and a chef on ecstasy. The plan surely is to bamboozle the opposition and take the media focus away from if things don't go smoothly. Meanwhile, Team GB's s aerodynamic suits are causing a stir in the same way the Phelps fish skin did a few years back. Are the other countries just sore losers? Meanwhile figure skater Yura Min from South Korea had a terrible wardrobe malfunction that almost went terribly wrong as her top got caught up. Also, back to those pesky Norwegians, this isn't first time the Norwegians have been ruffling some feathers in 2018. The first major talking point in the games after the whole potential nuclear war thing was the nutritionists google translating 1,500 wrongly in Korean and ending up with ten thousand eggs too many to keep their athletes energy up. Luckily they were able to return most of the eggs.
4. Russia outdo themselves every year and, as if last winter Olympics weren't enough reason to hang their heads in shame in Sochi, they went and outdid themselves by getting banned from entering due to the doping scandals that have plagued Russian sportspeople. However, 168 athletes are still competing in in 15 sports in Korea just under no flag. Is it possible technically no one could win the medal rankings? It was whispered that if they behaved well, they may be allowed to come out as officially Russian at the closing ceremony but as a few of their athletes are already failing drugs tests, we can assume that ship has sailed.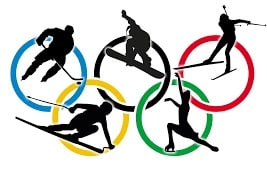 5. Speaking of plagues, an endemic norovirus is running riot through the Olympic village with many behind the scenes people struck down. At the moment only two Swiss athletes have been affected but it could only be a matter of time before things get sludgy. Is this a planned attack from the north?
6. It would not be the great spectacle of the Olympics without some commentator gaffs. We love listening to these guys basically explain what it is we're watching and why exactly that gravity defying triple backflip thirty feet up the air was actually technically poor. They are great ambassadors for their sports, inspire us to get off the sofa and have a go ourselves and mean the best, but sometimes no amount of media training is enough. Whether it's' simmering sexual tension in the studio, faux pars about other countries or the criminal pronunciation of the more exotic athletes' names, it's all part of the fun and games. Indeed, this year it seems American ice-skating commentators Johnny Weir and Tara Lipinski have gone full on Hunger Games- just look at them!