Did you know that in 2016, commercial buildings worth $74.24 billion were constructed in the United States? Since 2010, the commercial construction industry, with industrial, retail, office, lodging and amusement as the key segments, has been steadily expanding in America, to reach that astounding figure revealed by data published by Statista.
The building of commercial property and then renting out the building to businesses is quite popular amongst US investors. Constructing a commercial building involves an enormous investment of time and money, hence immense attention needs to be paid to location, budget, building design and material used. Experts at JJ Garage Door & Electric Openers, leading providers of garage door repair services in Barrington, say that it is very important for a business to select the right style of garage doors for their facility and choose only the high quality options for commercial establishments. Commercial garage door openers should be tough, long-lasting and designed to withstand heavy duty industrial use, including frequent operation.
Today, residential & commercial garage door installation & repair service providers are offering a large selection of commercial garage door openers and accessories. So, which type of door should you select?
Variety of Commercial and Industrial Doors
1. Thermal Insulated Doors: An energy efficient garage door is the newest trend, since it minimizes heat loss and saves energy. Since thermal insulated doors are constructed differently from single layer garage doors, they are more durable and strong.
2. Sectional Doors: If space is not an issue in your commercial setting, you could opt for sectional doors, including thermal, ribbed, rail and stile, and raised panel doors, requiring significant backroom or headroom, depending on the application.
3. Rolling Steel: This is a perfect choice for in tight spaces, since it requires minimum headroom, backroom and sideroom. Rolling doors are construed using interlocking slats that wind around a barrel.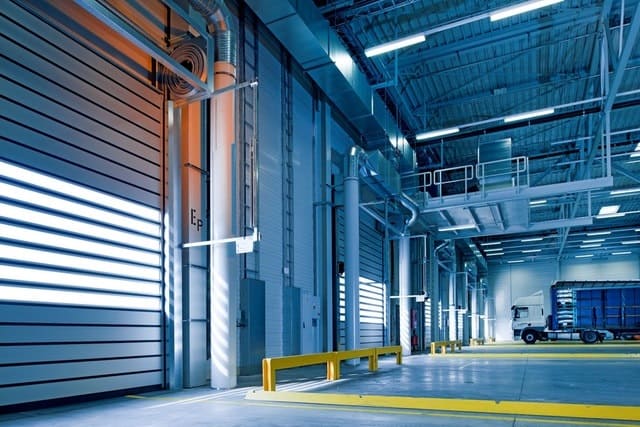 4. Full View Glass Doors: Although this kind of garage door is popular because it adds to the beauty of a residence, full view glass doors are gaining popularity amongst commercial setups too. Don't worry about its durability, the combination of aluminium and full view glass, which is sturdy, makes it a perfect choice for businesses that wish to add style to their premises.
5. Fire Doors: These are rolling doors that include both service doors and counter shutters, using a special feature where the fusible links automatically release the door to close at 165o These doors can help meet the most demanding fire security measures.
6. Speed Doors: With faster opening and closing times, high speed doors are an investment every business establishment would want to make. These doors are highly secure, prevent airflow that can affect certain merchandise and reduce heating or cooling loss, thus saves a lot for the business in the long run.
7. Four-Fold: Ideal for parking garages, fire stations, grain facilities and auto dealerships, Four-Fold doors move horizontally, and function under high cycle and other severe conditions. The visibility of the door opening and closing to the driver makes it easy for him to move quickly and safely.
If you too are looking for the perfect garage doors for your business, contact the nearest residential & commercial garage door installation & repair service and make an informed choice.