When the revered rock band Def Leppard announced last April that they will be bringing their Hysteria + More tour to Australia and New Zealand, it was reason enough for fans from down under to experience a sort of thrill.
And then it got even better.
It was soon confirmed that Scorpions will be joining the tour, bringing headbangers from both fandoms together for a cycle that will span over 6 venues.
The Tour
Beginning from November 2, 2018, the tour is to kick off from Perth, Australia. From there, it will move through the region on alternate days, holding shows in the Australian cities of Adelaide; Brisbane; Melbourne; and Sydney. It will then end in New Zealand with the last show being presented in the city of Auckland.
It has also been confirmed by the band that they will be playing their biggest album Hysteria in its entirety during the tour, along with playing a few additional tracks from other albums along with Scorpions. This approach is in line with their Hysteria tours held over the past 3 decades with the addition of Scorpion's collaboration.
It is yet another reason of excitement for fans of the rock band, as Hysteria is known for being Def Leppard's most successful album to date. Since its release in 1987, the album has sold more than 25 million copies worldwide, with 12 million being sold in the US alone.
Their tracks such as Pour Some Sugar on Me are known for raging through clubs in the late 80s and early 90s, but it was Rock of Ages that made the band a household name. It is a little known fact that the album helped them out at a time when they were $4.5 million in debt, setting them on a path for success that puts them on par with some of the most successful bands to date.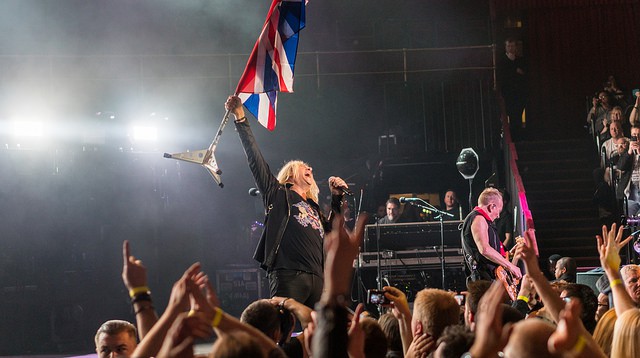 Tickets
According to the official ticketing plans, eager fans would not only be able to attend the concert, but could also have the opportunity to go backstage and even have a meet and greet opportunity with all members of the band. The pricing for usual tickets starts at around $130. Whereas, the special backstage and meet and greet packages start at around $650 and $900, respectively.
While this may seem like a steep amount to spend for a rock concert, true fans wouldn't be thinking twice before lunging at the chance to meet with the artists behind the iconic tunes. It shouldn't be surprising, seeing that they still continue to be relevant with the younger generation, having entered the Billboard Top 40 earlier this year with Hysteria.
If you are a Def Leppard fan, then you would be delighted to know that by taking a leaf out of other people's books, you or your friends do not necessarily have to take out a loan only to make it to this concert. Even if you do not hold a fortune to your name, you can still arrange for some extra money by doing away with possessions that you don't need.
For instance, you and your social circle can make use of old automobiles that you do not use anymore and make some swift cash for cars, which will provide you with some readily available funds that you could then spend on this once in a lifetime opportunity without feeling too guilty about splurging on it. On the other hand, you can also sell other unused items on auction sites, which could also provide you with quick funding in your bank account.
The tickets for Hysteria + More can be bought directly from Def Leppard's official website.