Energy analysts in the United States estimate that solar power may account for 10 percent of all energy in the country in just over five years. That would be an increase from just over 1 percent, which is the contribution today.
A good part of the solar energy will be generated from solar farms, large installations located at different point in the United States. If you are like many individuals, you may have a growing interested in solar energy. With this in mind, you may be interested in planning a visit and taking a tour of a solar farm. There are some steps to take to prepare for a visit to a solar farm.
Tours of Solar Farms
Most major solar farms do offer tours for visitors. Some facilities allow people to "drop in" for a tour during "normal business hours" during the day. Other facilities require guests to schedule a visit to a farm. If you are interested in visiting a particular solar farm, check out the requirements at a farm's website or call the facility.
School Tours of Solar Farms
Solar farms are increasingly popular tour destinations for schools. This includes elementary, middle, and high schools. In addition, some solar farms have specialized tours for students enrolled in colleges or universities. Some solar farms have developed cooperative curriculum that schools can utilized in advance of a visit to these facilities. These enhance the overall experience for students who are studying solar energy and visit an operating solar farm.
These specialized tours oftentimes include presentations in the form of films or lectures about solar power more generally coupled with the facts about the operation of a particular plant.
Special Tours
Some solar farms take the tour process a step further. These facilities will arrange specialized yours for people who have a special interest in the operation of a solar farm. For example, a group of engineers might have an interest in the overall operation of a solar plant, with an emphasis on the construction of a farm in the first instance.
Jobs Tours
Another type of tour offered at some solar farms is one that focuses on jobs and careers in the industry. There are different types of jobs in the industry, many of which directly impact the building and operation of a solar farm. Job tours are well suited to students in high school and college.
Depending on the school and the location of a solar farm, some educational institutions arrange for regular tours of a solar farm as part of an overall employment exploration program. These tours provide students with invaluable information about a possible career in the solar energy industry.
Tours Focused on Academic and Other Research Projects
Solar tours can also be arranged for people who are doing research about solar energy. In this day and age, there is a growing number of people involved in different types of research related to solar energy. This includes researchers in academic and commercial settings. These types of tours usually include multiple visits to a facility.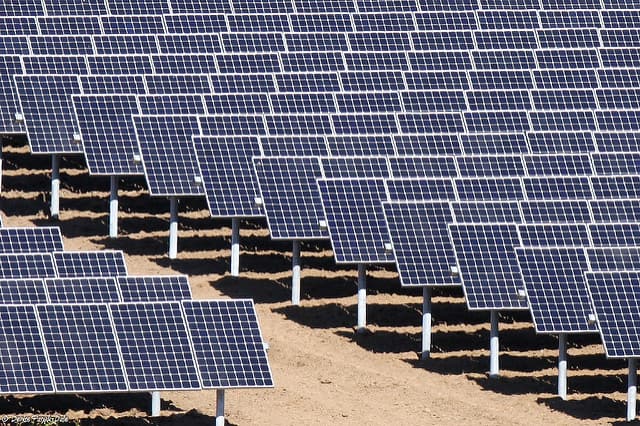 Cost for Tours
Solar energy farms do not charge for tours, in the vast majority of situations. As part of a tour, a solar energy farm may offer different types of items for sale. These can include everything from books about solar energy to calendars to shirts and other types of memorabilia. There may also be some specific items that are suited for younger children.
Timing of Tours
Most solar farms welcome visitors the year around. By definition, solar farms are located in parts of the country that have a more abundant number of sunny days. Tours of solar farms occur at a higher rate during the summer time, due to the fact that this is the time of year many people take vacations in the United States.
Making a Tour Part of a Vacation
Speaking of vacation, many people arrange for a solar farm tour as part of a vacation. This type of tour can be a nice addition to a holiday trip. Moreover, it is a perfect addition to a vacation for people who do not have ready access to solar farms near their homes.
Group Tours
If you are part of an organization of some type, solar farms nearly always are eager to arrange guided group tours of their facilities. If you have a group that would like this type of experience, you definitely will want to call ahead or reach out to a facility online to arrange for a group to visit a particular facility.
===
Jessica Kane is a professional blogger who writes for Federal Steel Supply, Inc., a leading steel tubing suppliers of carbon, alloy and stainless steel pipe, tubes, fittings and flanges.