Family holidays are a fantastic time for all involved, they offer the opportunity to spend an abundance of quality time together, whilst enjoying the sights and experiences of a new or far flung destination. To many, four-legged friends are a huge part of the family, and with that means extra preparation for a trip away. Whether you're planning an exotic beach escape, or a short break closer to home, here are our top tips for the perfect dog friendly holiday.
Arrange a pre-trip visit to the vet
If your trip is going to be quite extensive or far afield, it's extremely important to book in a routine pre-holiday appointment with your vet, to ensure your dog's general health is all good and ready to go. Double check that your dog's flea treatment is up to date and that you've micro-chipped your four-legged friend before departure, just to be on the safe side. It could also be advisable to search for a reputable vet within the local area surrounding your trip, just in case of any emergencies.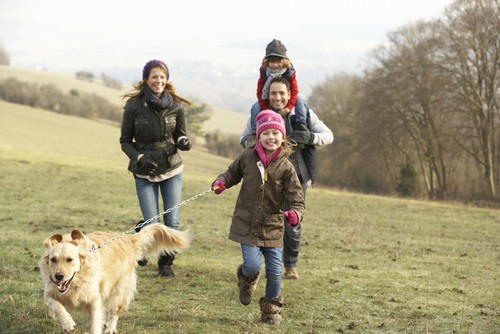 Prepare generous supplies
Considering your dog's needs is an important factor in ensuring your family holiday goes without a hitch. It's easy to forget that you may not be within the immediate vicinity of a pet store, should you run out of necessary supplies. By planning in advance, and packing surplus food and treats, you can minimise any running low.
Location and accommodation are key
It goes without saying but selecting a location that suits the style of holiday you are wanting to undertake is of the upmost importance. When planning a dog friendly holiday, it's sensible to consider choosing a spot that is surrounded by greenery and fantastic outdoor space to be able to indulge in plentiful walks and excursions. Appropriate accommodation is also important, and it's advisable to research for pet-friendly accommodation in advance, as demand is often high, and spots fill up quickly in the lead up to important holidays. Self-catering properties, such as these dog friendly cottages in the Cotswolds, are often the most popular choice for families as they offer flexibility and easy access to amenities.
Ensure your dog is well trained
By teaching your dog even the most basic of commands, you can be sure that you shouldn't run into too many issues whilst you're out and about exploring your destination of choice. It's also worth baring in mind that when out in public spaces, you need to be mindful not only of the safety and happiness of those around you (it may come as a surprise but not everyone in the world loves dogs!) and the safety of your four-legged buddy themselves. By ensuring that your dog can adhere to basic commands such as sit, come and stay, you should feel comfortable in knowing you are in control of any situation that appears.
Keep to routine where possible
Whilst it's clear that dogs are very quick to adapt to most situations, whilst on holiday it is advisable to keep to a routine where possible. For pets, it's completely understandable that travelling to a different country, temporarily living in a different home and being exposed to different daily triggers, for example local wildlife, can be confusing. By keeping meal times roughly the same, and by ensuring you bring along your dogs' favourite toy and blanket, you can remind them of the comforts of home, no matter how far away you are.