I've often thought that a cruise sounds like a good idea, as it allows you to see a huge variety of countries while making the travelling portion of the holiday enjoyable as well. It's the best of all worlds, and when I started looking into where in the world is accessible via ship, I was shocked to find that basically nowhere is off limits.
I decided to narrow my search a little more, to find out where you can sail to from Southampton port, one of the most popular in the UK. I was blown away by the variety of destinations – take a look at my top picks below:
Norwegian fjords
A bucket-list destination for nearly everyone who loves to travel, Norwegian fjords are a spectacular site that can be easily explored from the comfort of a cruise ship. With incredible wildlife-spotting opportunities, glaciers to photograph and rugged coastlines that beg you to take a closer look, few other global destinations offer so much in the way of scenery.
Choosing to visit these amazing natural sites via a cruise ship is ideal, as those travelling to Norway are often specifically built to account for the narrower waterways and feature multiple viewing decks, to allow the best vantage points for waterfall photography and more. The villages found in the fjords are definitely worth exploring too, as they offer a glimpse into the history of the region, in particular, picturesque Bergen.
The Caribbean
Who hasn't dreamed of heading to the Caribbean for a few days of guaranteed glorious weather, soft white sands and clear waters to splash about in? I know I'm always keen to chase the sun and was a little surprised to find out I could do exactly this by boarding a cruise ship in Southampton. Talk about one extreme to the other.
Perfect for a winter holiday, the Caribbean is more than just a breathtaking beach destination, with rich and vibrant individual cultures permeating every island in the group and giving an insight into the history of the region. Whale-watching, scuba diving, hiking and tasting the amazing street food will all be on my list during a visit.
The Canary Islands
Budget-friendly and always sunny, the Canary Islands are a favourite holiday destination for good reason, but instead of flying, more and more people are choosing to set sail to the warmer climes of the area. A scenic and straightforward journey, sailing offers on-route sunbathing opportunities, to make sure you are ready to hit one of the many beaches upon arrival.
What I really love about the Canaries is the fact that they appeal to travellers of all ages, with family-friendly attractions, high-octane sports and quiet nature reserves in abundance. The beaches are also famously enjoyable, being clean and safe and usually within walking distance of some fantastic restaurants.
The Mediterranean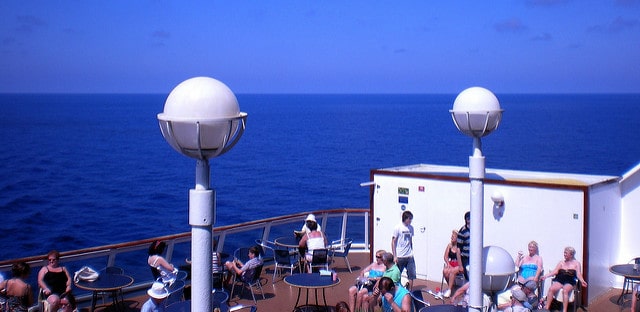 I've never heard of anyone turning their nose up at the suggestion of a trip to the Mediterranean. If anything, the only issue is that travellers don't know which country and region to start with as there are so many to experience. This is where cruises come into their own, as passengers can select a voyage that will allow them to see as many cities as possible, all in one journey.
From history tours in Rome to gondola rides in Venice, foodie festivals in France and everything in between, the Mediterranean is a playground of possibilities that continues to surprise every time you visit. There are even amazing sights for those that prefer to stay away from the crowds, such as the Blue Caves of Zakynthos.
The Baltic
The Baltic is one of those destinations that feels magical thanks to the diversity of the sights on offer. Stockholm, St Petersburg and Copenhagen are just a few of the bucket-list cities that can be visited, but the journey itself will genuinely contribute to the fairytale atmosphere.
Sailing past waterfalls to reach breathtaking architecture, incredible art collections and exciting new foods (many of which will involve fresh seafood in this region), really does make the Baltic a destination to see by ship.
I honestly don't think that I ever realised just how many amazing places could be reached by cruise ship, especially not those leaving from Southampton port. It's really changed my perception of cruising as a whole, knowing that the journey can be one of the most enjoyable parts of a holiday and it's something I'm going to consider for my future travels.