Australia is home to an abundance of magnificent beaches that have gained the attention of tourists and travellers from across the globe. Whether it's a relaxing stretch by the calm sea or a wild, action-filled surfer's paradise, you can be sure that you'll find the perfect experience for you somewhere in the country.
If you're planning a trip to Australia soon, then you may be interested in visiting some of these fabulous locations, however, you may not be sure which one best caters to what you desire. For this reason, we've put together a list of what we consider to be the top 5 beaches in Australia, with options that deliver a wide variety of different experiences, designed to suit anybody's tastes. Thanks to the people at Triphobo for helping us with this list.
Whitehaven Beach, Whitsundays
Widely considered to be the most visually stunning beach in the country, Whitehaven stretches over 7km of the beautiful Whitsunday Island, located just off the coast of Queensland. Apparently, this is the most photographed beach in Australia, and upon seeing it, it's obvious as to why. The vibrant waters pair remarkably well with the almost pure white silica sand, making Whitehaven a true sight to behold and a must-see location for any beach lover.
Turquoise Bay, Exmouth
Moving over to the west of Australia, we find the exquisite Turquoise Bay, home to one of the most amazing reefs in the country. This makes the beach perfect for snorkelling, giving you the rare opportunity to see an abundance of fantastic sea creatures such as manta rays, dugongs, whale sharks, and an array of tropical fish.
Bells Beach, Victoria
One for the adrenaline junkies, Bells Beach is absolutely iconic within surf culture. Located towards the south of the country in Victoria, this spot is famed not only for its powerful swells, but for its beauty too, thanks to the formation of red clay cliffs that serve as the beach's backdrop. As proof of its status as a true surfer's paradise, Rip Curl Pro has made the venue home to their annual Surf and Music festival, an event which has become one of the biggest events on the surfing calendar since its inception in 1962.
Noosa Main Beach, Noosa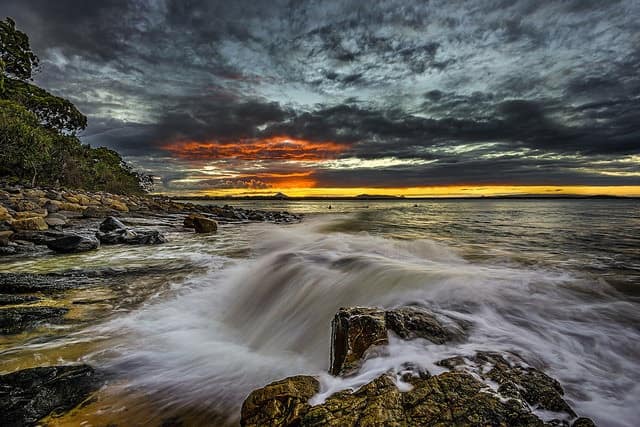 One of the very few north facing beaches in the country, Noosa Main Beach has calming, gentle waves and is well patrolled, making it the perfect spot for families. In addition to this, the beach is situated next to Hastings street, a precinct known for its shops and restaurants. Thanks to its family oriented nature and convenient location, Noosa is the perfect place to go if you're looking for a relaxing day out, but don't fear, there is also a range of activities on offer for you to indulge in if you're looking to get a little more out of your trip.
Bondi Beach, Sydney
Possibly an obvious choice, Bondi Beach is one of if not the most instantly recognisable beach in all of Australia, and can be found in one of its busiest cities. The quality of the beach may not be at the same standard as some of the others on this list, but that is more than made up for by the atmosphere, the location, and the extensive history and cultural relevance that Bondi has behind it. If it's your first trip to Sydney, then visiting Bondi is an absolute must.
After hearing about all the beach destinations, perhaps you've decided to visit Australia? If so, then you should check out this competition, by tombola bingo, for the opportunity to win the ultimate luxury holiday to the land down under! Even if you aren't fortunate enough to win, we still highly recommend making the journey and seeing for yourself everything that the country has to offer.
In addition to its countless stunning coastal destinations, Australia has a plethora of attractions that provide even further reason for a visit. Tourism in the country is on the up, and with incentives such as the Sydney Harbour Bridge, The Great Barrier Reef, and its various National Parks, in addition to its fantastic beaches, we can certainly see why.