Can you believe that it's almost Christmas? It won't be long until you're popping up the Christmas tree with your little ones and cleaning up the mess made by your devilish elf-on-the-shelf. But Christmas isn't Christmas until you attend some markets, although sometimes it can be a struggle to find the best ones. With the help of Stagecoach, who offer cheap bus fares, we look to find some of the most Christmassy markets in Britain.
Remember to wrap up warm when venturing out to some of our top picks! You'll be singing some of your favourite carols in no time!
Newcastle upon Tyne
Newcastle transforms into a winter wonderland at Christmas time, with decorations travelling down the long and narrow street to create that festive feeling for the people of the city. The market is located at the top of Grey Street, just under Grey's Monument where you can find wooden huts that are built and decorated specially for the Christmas period.
But what does the market have on offer? What makes it different? The Newcastle Christmas Market brings cultures together and celebrates differences, perfect for small children wanting to experience a big world. Tradesmen and women from across Europe come to bring a touch of their country to Newcastle – you'll get to witness one of the best atmospheres in the country during this festive time. From foods to ornamental items, you'll be spoilt for choice with what you can purchase. You might even find the perfect gift for that special person. If you're into Ice Skating, head down to the Centre for Life to show off your skills in Times Square!
Open: 11th December – 17th December
Birmingham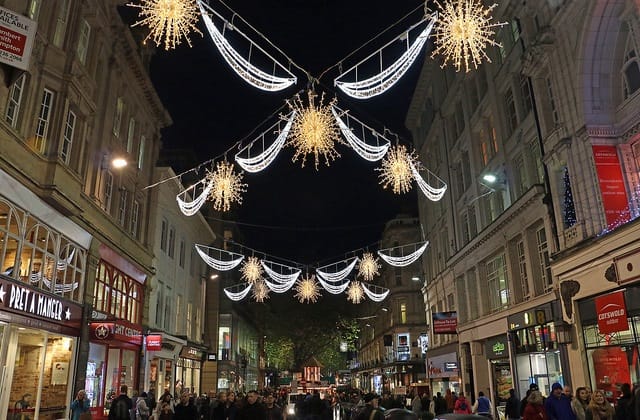 For 12 years now, the German Christmas Market in Birmingham has been a top attraction to those wanting to venture outside of their own city and travel to a spectacular Christmas market. Located in Victoria Square, it makes a beautiful setting for any family photograph – lights descend down the centred fountain and the iconic carousel is at the top of the steps creating an uncanny version of Santa Claus' Village.
With a collected 180 stalls, you're bound to see something unconventional. You might even be able to snatch up a unique gift for your little one, whether this is a piece of jewellery or a handmade toy – make sure your other half distracts them whilst you make the purchase. Grab a hot chocolate with marshmallows and have a stroll around the village.
Open: 17th November – 29th December
Exeter
Take a trip to Exeter this year to discover the magnificent Christmas market on the West Front of the Cathedral – creating an enchanted atmosphere. With the Cathedral towering over, you will be able to take a long walk around the different wooden huts and experience something from each continent of the world – perfect for introducing your kids to different cultures.
Unlike previous years, the Exeter Christmas Market will now have a bandstand which will host the entertainment for the evening – with local bands, singers and choirs spreading the magical spirit by singing some of our favourite Christmas carols that allow the kids to get involved. If you can't get enough of Christmas markets in Exeter, there's two more – one on Castle Street and Fore Street – don't be afraid to pop down and indulge yourself in more Christmassy treats and I'm sure your little ones would be more than up for it.
Open: 16th November – 17th December
Lincoln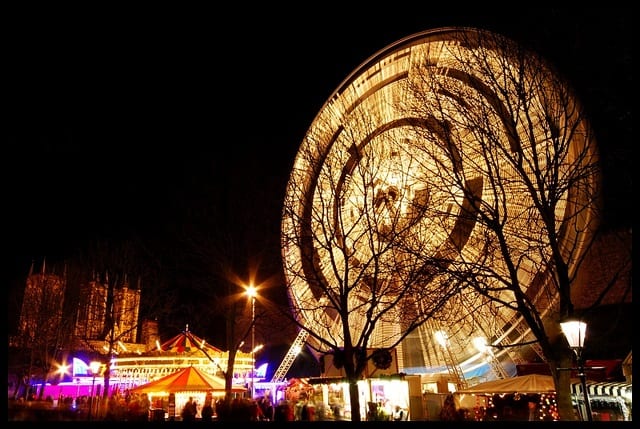 Indulge yourself in the historic culture of Lincoln by attending their Xmas market or over 280 stalls surrounded by the iconic castle and cathedral – allowing your little ones to have a real sense of magic on your family trip out. From freshly cooked food to some of the most exceptional gifts, you'll be able to experience something different from this market that will make you want to return the next year.
Not only are new stalls put up outside, but shops along the cobbled streets come outdoors to sell their products too! Creating the perfect atmosphere up the steep bank. Not only can you shop in the market, whether this is for hot food or baked treats, you can also take a trip on the big wheel and other fairground rides – once you get high enough, you might be able to spot one of Santa Claus' elf in the crowd – so make sure you're on your best behaviour to remain on this year's good list. Although the duration of this market isn't long, it's worth going!
Open: 7th December – 10th December
London
If you're heading to the capital this Christmas, why not take a trip to the Winter Wonderland situated in Hyde Park. Full of festivity, there's nothing that you and your family can't do at this market, from ice skating, to circus' and even Cinderella on Ice, whatever your family desires is available here – although booking is strongly advised as there is a high demand of certain activities and attractions.
There's no excuse not to attend this Winter Wonderland as it remains open after Christmas has ended! Remember to take your camera and capture plenty of selfies, you don't want to miss the moment where your littles one's face light up when meeting Santa Claus himself. Once you've tackled the magical kingdom of Winter Wonderland, why not take a stroll to Buckingham Palace to take photographs outside of the iconic landmark – you might even see the Queen if you're lucky!
Open: 17th November – 1st January
So, what Christmas market will you be heading to this year?