Hiking around the world is the most exciting thing you can do. Of course, that means choosing all your equipment with the utmost care because you won't be home in months. That sounds overwhelming, to say the least, but we're here to help with top advice on how to choose your clothes.
Set a theme
You'll be hiking all over the place, but does that mean you'll go from the Tropics to the Arctic Circle, or will you hike in temperate weather? Depending on where you're going, how you'll travel and how long you'll stay, your luggage will look very different.
The problems appear when you need to take a very small baggage and want to hike in extremely different environments. At this point, you can start from the very cold, rough regions, that demand a lot of equipment. When you move on to less demanding hikes, you can send the extra gear home by mail.
Mix it up
You'll need various items, but your outer layer should be an insulating, waterproof, windproof and comfortable jacket. Don't forget breathable. Yes, it's a lot to look for, but this is your go-to jacket in different weather.
You'll also need about 10 different pairs of underwear and socks, 3 long-sleeved T-shirts and 3 with short sleeves, and 2 pairs of pants. You should also consider adding 2 overalls of different thickness for sleeping or for very cold weather. Boots are essential, as well as a pair of sandals or flip-flops.
Pack easy to wash clothes
The materials that are the easiest to wash are polyester, Lycra, nylon and merino wool for your first layers. Fleece is great too in terms of how easy it is to wash, but you should research some tips on how to wash fleece jacket first.
Fleece and leather are easy to clean too with just soap and water, though they weigh more. Cotton stains can easily be removed with vinegar.
Pack light
Choose light items that offer protection against cold or wind without weighing too much. For instance, wool is very warm but weighs more than fleece. Same goes for leather jackets or boots, while nylon or polyester fabrics can be just as resistant at half the weight.
However, you can sacrifice the weight of your backpack for a couple of your more important items. Just don't do that for each of them.
Think small
That means you should get foldable clothes because having a compact backpack is truly important for keeping your balance on the trail and for avoiding unnecessary aches. Besides, you want clothes that still look well even after you've unfolded them, which is why you need to avoid cotton. Or if you really have a favorite cotton item, you can always treat it so it stays wrinkle-free.
Otherwise, we love microfiber clothing because they're very resistant to different weather, they're breathable and easy to fold. Polyester, nylon, and Lycra are great choices too.
Moisture-wicking is best
You should consider moisture-wicking materials at least for the first layer that's closest to your skin. If you get a tee or underwear that absorbs moisture, you'll feel very uncomfortable and increase your chances of catching a cold. That risk rises with more strenuous hikes, as well as with extremely cold weather.
So you really need to stay away from cotton for day hikes, though you can wear this during the night. The best materials are man-made, and we're thinking here about different polyester and Lycra blends. However, merino wool is the best in this category since it's very light, wrinkle-free, insulating and resistant on top of moisture-wicking. It's also the more costly of the bunch, but it's worth it.
Versatility is your ally
It would be amazing if your jacket had two parts that can be zippered together: a fleece interior and a rainproof outer coat. You can wear both of them in extremely cold weather, just the fleece part when it's cold, but not windy, or just the exterior in rainy weather.
You can also get long pants that can be transformed into shorts with zippers, or boots that have a removable padded interior.
Get anti-bacterial materials
We all get sweaty and stinky after an intense hike, and that's only natural. It happens because of the many bacteria that live on our bodies and that multiply like crazy when we increase our body temperature through effort.
That's why you need anti-bacterial materials like merino wool, especially for the first layer. These won't prevent you from sweating, but they'll prevent the bad smell because they kill bacteria. And there's a very important difference between stopping a smell and masking it.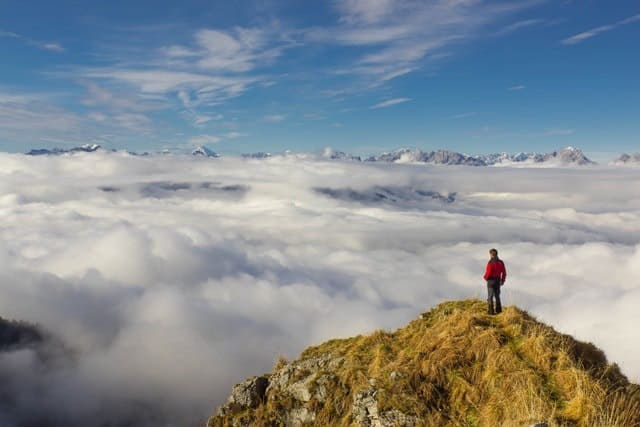 Fast dry things are top priority
Since you'll be constantly on the move, maybe changing camp on a daily basis, you need clothes that dry up fast. Most of the materials we've recommended until now are literally a breeze to dry because they wick moisture.
Conversely, moisture-absorbing clothes take ages to dry up, though you can learn how to dry clothes fast even if you've packed something like that. But stay away from jeans. They're bad in all departments, including how fast they dry.
Size matters
We really mean this one. Get clothes that fit. You know that a small size is never comfortable and can hinder your movements, but something too big on you is just as bad. Large clothes provoke chaffing and irritations, and they're less insulating because they're not a right fit.
You can pick a shoe size that's one size bigger, though. That's good for wearing thicker socks as well as for preventing your feet from swelling.
What's your advice?
That said, we're curious what advice you've found most helpful and what you think we've missed. We'd also like to know where you're planning to go and what equipment you're thinking of packing. And once you return home, come back here with your own advice for your fellow hikers. Safe travels!
Author Bio
Rebecca lives in USA, but loves hiking all over the world. Her favorite is Everest Base Camp Trek in Nepal. It usually takes 16 days, but she likes to slow down, enjoy mountains, company of other adventurers and take more pictures, so it took her 28 days last time. Another of her passion is the ocean, so all short and long hikes along the ocean shore bring a lot of joy. She also writes for HikingMastery.com.