There are many wonderful and exciting outdoor activities waiting for you in Dubai. You may have heard about some, but most people certainly have not. Here we're going to explore eight of the most interesting and exciting places to visit and things to do to make the most of your visit to this fabled desert city.
Of course, every tourist arriving at one of the local airports will usually head for one of Dubai's famed shopping malls.
As you look around at the glitzy modern skyline and the glamor that accompanies so many wealthy residents and visitors, you still have little idea of the many outdoor activities that will satisfy everyone's taste for excitement and adventure.
But once past the shopping malls, or at least during breaks in between shopping trips, there are at least eight other activities that every visitor should see at least once.
#1: Desert Safari Dubai
The name "safari" indicating a trek through the desert, and the famous safari jacket associated with this, both come from the Arabic word meaning to take a trip. Well, that's just what a real safari is: a trip.
The surrounding desert is the home of the Emiratis, a place where these hardy people have survived for centuries and who deeply respect its mesmerizing sand-scape. This fascinating sand-scape has a beauty not unlike the sea itself.
A visit to the Arabian Desert will help every visitor to appreciate its tremendous mystique. This visit is best experienced in a typical Desert Safari. Guides take the visitor on a journey of cruising over the dunes of sand, followed by a sumptuous buffet dinner at a desert camp while entertainers tantalize the eye with their famous belly dance and "Tanura" dance show.
If you find a guide who is willing to lead you a bit further into the desert, you may even experience more exciting views of the desert as well as be treated to a special and memorable time far from the bright lights of Dubai City. This journey will put the Dubai experience into perspective.
#2: Horse Riding
For many, experiencing the sunset desert on horseback is the way best to enjoy this. Of course, everyone knows that horses form an integral part of desert life. Here, the Emiratis love horses as much as they love their camels. After all, many of the desert horses are legendary for their beauty, stamina, and speed.
Horseback racing is also an extremely popular sport in the UAE and has always played an important role in the lives of our desert inhabitants. Outdoor adventurers, as well as animal lovers, will certainly want to connect with this important part of the UAE's cultural heritage.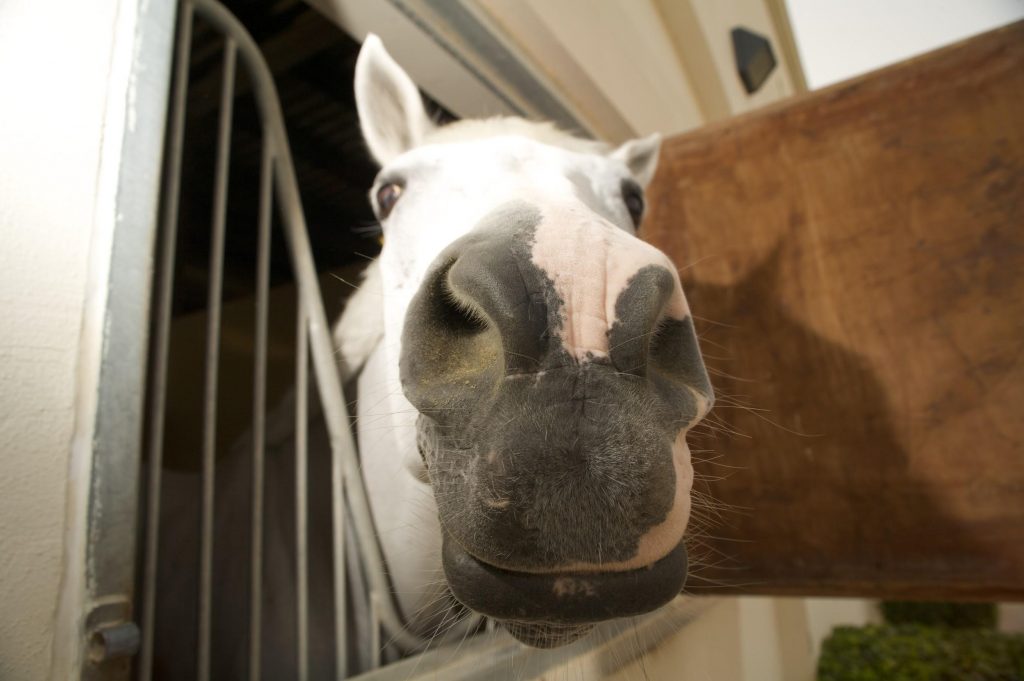 #3: Scuba Diving
Lying along the Persian Gulf, the United Arab Emirates naturally offers many water-based activities. One of the most popular and sought-after activities for the visitor to Dubai is scuba diving.
You'll find a number of exciting dive destinations. There are dives along the picturesque coral reefs where you may occasionally find a whale shark resting amidst them. You may very likely see many other species as well such as eels, stingrays, barracuda and frequently, the beautifully colored nudibranchs.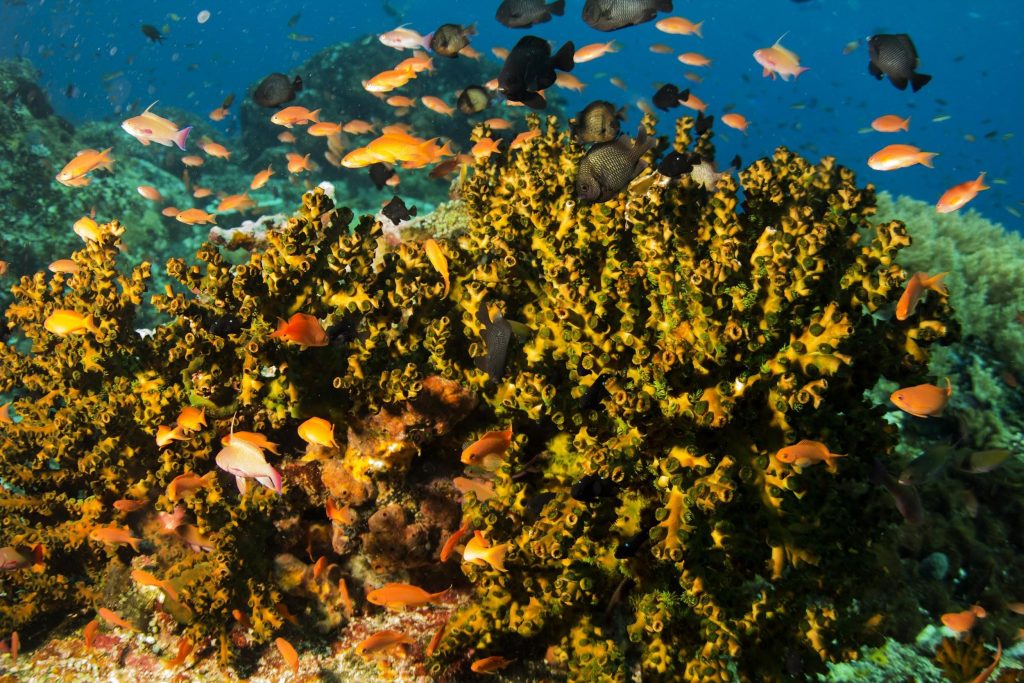 You'll find many opportunities for excellent underwater photography. The breathtaking underwater views will astound you as you try to decide which view to photograph next.
#4: Deep Sea Fishing
It may be true that the UAE is no Bahamas, but you'll be surprised at the good deep-sea fishing right here off the coast of Dubai. For the seasoned fisherman, this can be an entirely new and satisfying experience, while for those who have never experienced a day on the deep water, this may be the perfect opportunity.
Many bring back a good catch of barracuda, trevally, king fish and cobia — and on a lucky day, you may catch a Bluefin tuna or even one of the rare aquatic giants that make these waters their home. These excursions will take you some twenty kilometers out into the Persian Gulf where trolling and bottom fishing offer the best results.
#5: Palm Island Sea Cruise
A cruise out into the Mediterranean Sea is another of Dubai's proud offerings. You can enjoy this fantastic cruise around Palm Island and the Dubai Marina Canal. You'll get a unique view of the stunning sail-shaped Burj Al Arab luxury hotel from the sea.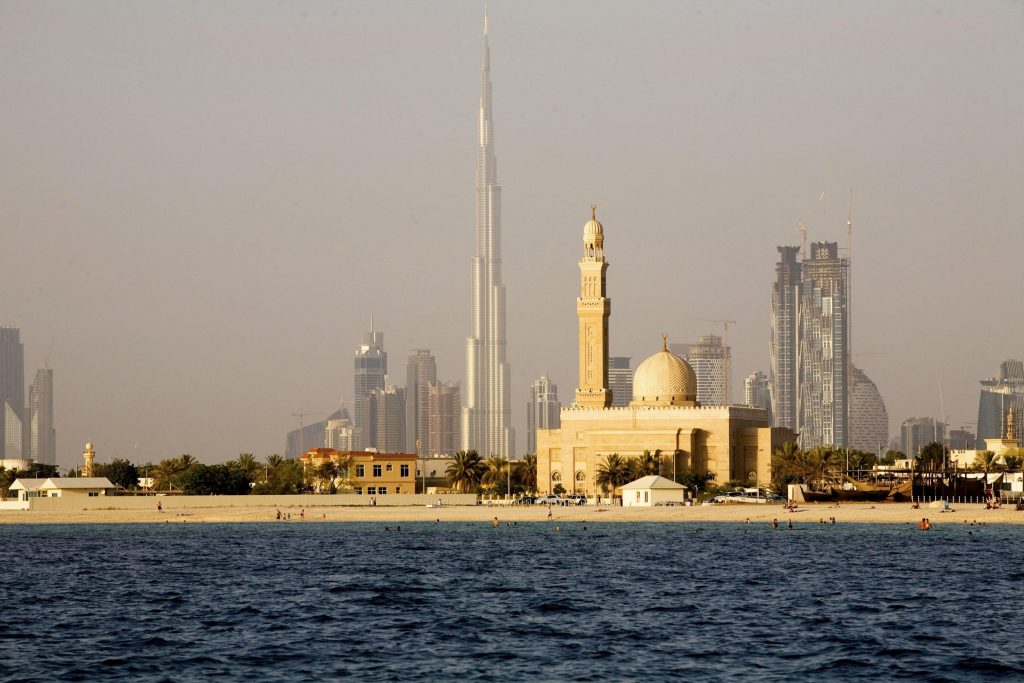 You'll also enjoy the view of the breathtaking Jumeirah coastline as well as the World Islands. This is a calm, restful tour during which you never lose sight of the coast and normally it never bothers even those who have, in the past, suffered bouts of seasickness.
#6: Yacht Rental
While it's true that the rental of a yacht may cost a little more, you can defray a good part of that expense by sharing a trip. Many pre-arranged routes are available and this unforgettable way of enjoying Dubai will be the subject of many recollections in the future. From your yacht, you'll be able to see and appreciate the entire frontage of the city along the coastline.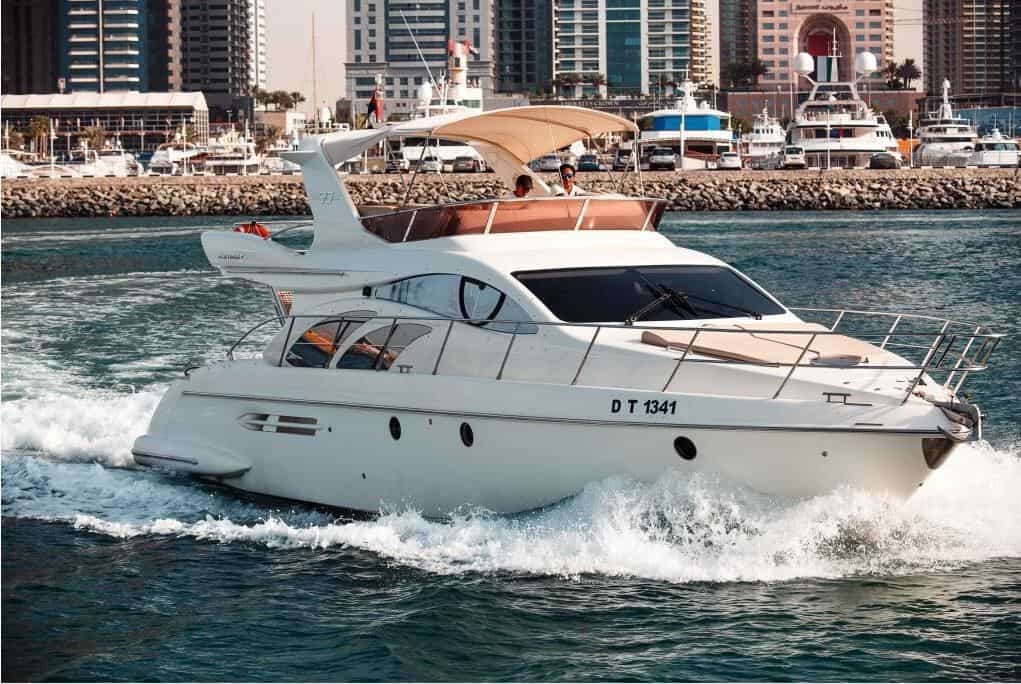 But a yacht rental offers a great deal more. You'll be leaving the standard tours to others while you and your family and friends have the freedom to cruise any route that you desire. To add to the magic, you can sit down to your lunch or dinner on board as your yacht floats gently on the waters. An onboard barbecue is another way many choose to go for added enjoyment while out on this beautiful ocean voyage.
In the evening, you may choose to drop anchor and go for a swim. It won't take long for you to realize that diving into a welcoming, uncrowded ocean for a swim is a very different experience than swimming at an overpopulated beach.
#7: Dhow Cruise Dinner
While there are many types of dhows, this wooden sailboat has been a traditional form of water travel for centuries. One of the most memorable ways to explore the canals that surround Dubai is to hire a dhow for a dinner cruise in the Dubai Marina.
During your dinner cruise on your dhow, you'll combine a thrilling scenic experience with a sumptuous buffet dinner combined with live entertainment.
Everyone who has experienced this evening agrees that a dinner in the open breeze is an absolutely stunning way to enjoy dining with Dubai's graceful skyline as a backdrop. Many also agree that this was one of the highlights of their trip.
#8: Musandam Day Trip
Many think of Dubai as an ocean of undulating sand dunes, but one of the most beautiful sights to behold in the UAE is the mountain range that extends along the west coast, almost like a city of lovely buildings in itself.
The Musandam Governorate on the west coast of the region is definitely worth a day's visit. This area belongs to Oman, although it is nevertheless a very common destination for residents of Dubai and the UAE for weekend camping trips.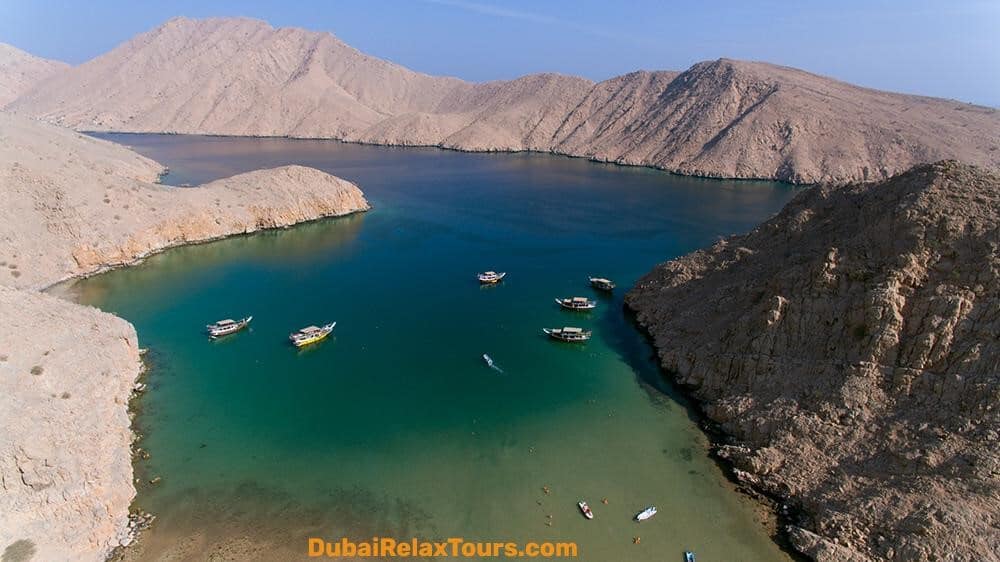 This breathtaking locale with its steep fjords running down into the sea matches any to be found in Nordic Europe.
With the backdrop of the serried mountains combined with your panoramic view of the ocean all serve to make this a scenic region of world-class beauty.
Even if you have only one day to visit Musandam, be sure to take the long Day Trip. transfer from Dubai or Sharjah while you dine on a local lunch along the way.
Conclusion
This Day Trip to Musandam finishes this list of what we consider to be eight of the most interesting things for you to see and do in Dubai. Aside from the fabulous shopping trips, there are so many other memorable attractions that you should now allow yourself to miss out on.
We suggest you try to think "outside the box" as you consider your trip to Dubai. Allow yourself a bit of time to get off the beaten path and away from all the towering skyscrapers with all their modern tourist-traps and shiny malls with their expensive boutiques.
You needn't be afraid to leave the air-conditioned world of your hotel to get outside where you'll begin to experience much of the many other experiences that Dubai has to offer.
Once you get back home, you may well agree that some of these experiences were the real highlights of your trip to the EAU.
Bon voyage !