While a top-floor penthouse apartment may be the pinnacle of urban living, with views over the city, space, and privacy, many have to settle for something more mundane. But fear not because the most humble abodes can be made to look and feel fantastic with a bit of work and creativity. So, with this in mind, we seek to offer some advice and tips for decorating a ground-floor apartment.
Shutting the Rest of the World out
Having spent a busy day interacting with others, sometimes it is nice to get home and shut the rest of the world out. Indeed, living in a ground-floor apartment means carefully considering how you will protect your privacy while retaining light and the views of the outside when you want them.
Venetian blinds are one stylish option. However, roller blinds, shutters, and some cool curtains all offer ways to dress your windows and filter the amount of light that enters the space.
Floors Walls and Ceilings
What you do with your floors, walls, and ceilings will depend, to a large degree, on the size and style of the apartment. For instance, exposed bricks with contrasting plastered walls that are just painted look great in industrial loft-style apartments. Alternatively, if you find yourself in a converted Victorian house, one wall accented with patterned wallpaper may be more appropriate.
Could you keep it simple? No wallpaper, just crisp white paint, will help reflect light on ceilings. It's clean and stylish. Wooden or laminate floors are desirable, but carefully selected rugs are paramount for warmth, comfort, and color.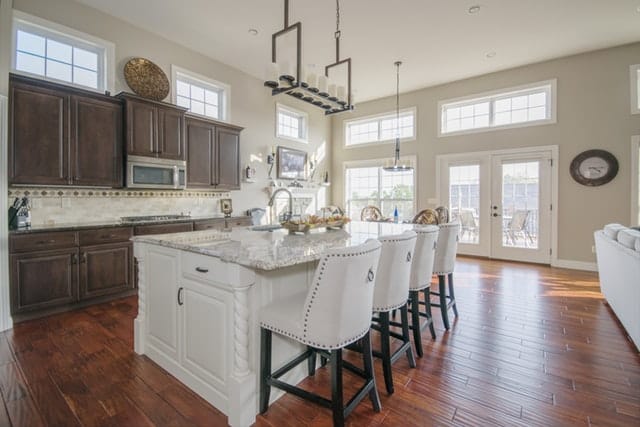 Funky Furniture
Choosing what furniture to put into a ground-floor apartment is one of the ways you can begin to put a personal stamp on the place, but there are also some practical considerations. For example, an excellent couch is a must, but what size? It can often work best if you go large for a sofa – as opposed to two smaller ones or an additional armchair that take up far more space.
Another must is a table where you can eat, work or entertain. Here, think about size and versatility – how often do you throw dinner parties for more than four guests? A small table that can be moved around and serve various purposes is perhaps the way to go.
Object D'Art
Complete the interior by choosing some paintings, photographs, and even sculptures that will make the place look more attractive and inspire you every day that you spend there.
Decorating a ground-floor apartment is just the same as decorating any other space – it involves a combination of practicality, creativity, and personality. Use these three things wisely, and you can't go wrong.