Ringing in the new year isn't only an American tradition. Other countries have their own ways of celebrating a new year and its accompanying opportunities, too. Check out some of the ways that people around the globe celebrate the beginning of a new year:
Japan
Buddhist temples in Japan ring their bells 108 times on New Year's Eve in the hopes of warding off the 108 "defilements of man." Indeed, many Japanese ditch western clothes, don a traditional kimono and visit a temple or shrine on New Year's Day in order to ring a bell 108 times themselves and to pray for health and happiness in the year ahead.
Romania
In Romania, many dress like bears and gypsies and participate in the "Dance of the Bears." In the dance, the bears are captured, killed and then come back to life, signifying death and rebirth and the promise of a new year.
Brazil
It's not uncommon in Brazil to see people throwing white flowers into the ocean as an offering to Iemanjá, goddess of the sea, on New Year's Eve or Day in an attempt to secure favor and protection in the upcoming year. Many frequently also wear colored underwear to summon various favors. Red underwear supposedly brings love, green brings health and yellow brings money.
China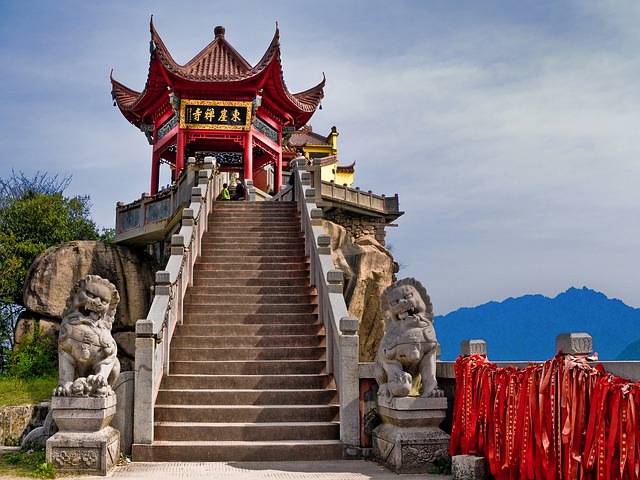 The Chinese celebrate the Chinese New Year with their own emphasis on color, painting their front doors red to help welcome good luck to their homes each year.
Bulgaria
Bulgarians celebrate the new year by hosting dinner parties and turning off the lights for three minutes. No one knows what occurs during those three minutes; it's a secret, but perhaps it's three minutes of New Year's kisses!
Spain
In Spain, it's customary to eat 12 grapes (symbolizing the 12 months) in the 12 seconds following midnight on NYE. It's considered good luck if you can manage it.
Denmark
People of Denmark break plates against the doors of the homes of their family and friends as a sign of affection and with the hope that it will chase away evil spirits threatening the occupants inside. Thus, the bigger the mess in front of your door, the luckier and safer you'll be!
South Africa
South Africans also throw things: furniture! It's a tradition there to throw old furniture out windows in an attempt to cast off the problems of the previous year. Just watch out below!
Mexico
Finally, some people save money and vacation days or even hire an EB-5 investment visa lawyer (so that they can work abroad) when they want to see the world. In Mexico, they walk around the block with an empty suitcase on New Year's Eve. It's believed that doing so will secure a year of new travel and adventure. Sounds like a plan to us! How do you celebrate a new year?