Everyone's favorite on-the-water reality show now back on air (every Monday on Bravo for the foreseeable future, folks!) and we are so ready to dedicate our summer to Captain Sandy and her motley crew. Some of our old faves are coming back (Chief Stew Hannah Ferrier is back for her fourth Below Deck season, as is Bosun João Franco – expect more awkward tension between those two – and kind-hearted rapper-extraordinaire Colin Macy-O'Toole as Deckie. And with excitable newbies looking to prove themselves at any cost, we're ready for another drama-filled season, this time set on the glitzy French Riviera.
But we still have questions – so many questions! – about our beloved trashy program. Namely, is Below Deck real? IS IT?? Because surely if it was, some of our main yachties wouldn't stand a chance of getting yacht crew jobs afterwards… here's looking at you, Danny Zureikat!
Is Below Deck real? Tell it to us straight.
As always with reality TV, the answer is both yes and no. For example, we learned that when a yacht is selected for filming, the boat name is sometimes changed for privacy. This happened in the US series, with S1's Honor, S2's Ohana, S3's Eros and S4, 5 and 7's Valor (real names Lumiere, Rhino, Mustang Salle and BG respectively).
The majority of the crew is reportedly also chosen by the casting team at Bravo rather than the Captain (as would be the case in the real world). The OG Captain, Engineer and First Officer get to stay onboard, but everyone else is booted off in favor of a more TV-ready cast. However, this does not mean that those onboard are not proper yacht crew, or that they are not serious about their careers.
Hannah Ferrier is said to have spent 8 years working on yachts before joining the show, Adrienne Gang (Chief Stewardess on season one of Below Deck) is a seasoned stew/chef and plenty of the crew start their life as a yachtie off-camera before joining the show. However, Co-Executive Producer Rebecca Taylor did tell The Triton there's typically "a mix of professional crew and young, transient people" on the boats, meaning not everyone is quite as serious about their yachting career as they could be! US Captain and Silver Fox Lee Rosbach has also accused the network of hiring people who were "inept" in the past, throwing some serious shade onto his former crew and making us question if Below Deck is real.
Do people get real-world yacht jobs after trashy behavior on the show?
From lying on your resume to getting wasted, disrespecting the guests and being kicked off the yacht, does this behavior really not come back to bite Below Deck crew on the butt? In the interest of true investigative journalism, we've done some digging to spill the tea on where all the most explosive crew mates from Below Deck and Below Deck Mediterranean are now….
Leon Walker
Season: 1, Below Deck US
Role onboard: Chef (episodes 1-10)
Remind us what he did wrong?
When Walker took a nap it was left up to the interior crew to cook pizza for the guests, leading to a small fire breaking out in the galley. He put the blame on Chief Stew Kate Chastain, but when Captain Rosbach investigated he found it was Walker's dirty oven that had caused the flames to break out, leading him to be kicked off the boat.
Where is he now?
His Twitter suggests he is still very much working as a yacht chef, frequently sharing a selection of beautiful travel shots, delicious dishes, and not a rogue flame in sight.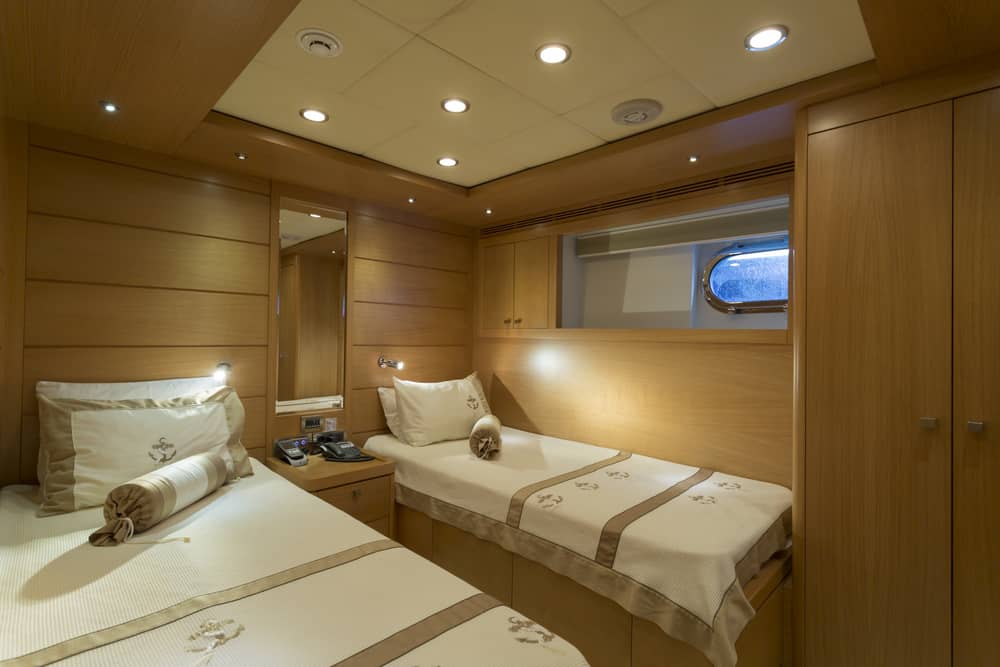 Raquel "Rocky" Dakota
Season: 3, Below Deck US
Role onboard: 3rd Stewardess
Remind us what she did wrong?
Romantic drama seemed to follow Rocky wherever she went. She was having a secret affair with Bosun Eddie Lucas, which she then tried to reveal to Deckhand Emile Kotze, who had a crush on her. Captain Lee was unhappy with the effect this love triangle had on the boat dynamics, saying "Rocky, I had such hope for you. All you have to do to finish well is your job and just let things be. But that is not going to be the case from the looks of it. First, you are going to make sure you tie Emile up into such an emotional knot that it may take months of therapy to unravel him." Although she wasn't fired, she certainly didn't come back for season four.
Where is she now?
After leaving the series Dakota travelled for a few months, taking on occasional yacht jobs aboard boats out of Florida. She then moved to Hawaii, where she continues to work on yachts as either Stewardess or a Chef. Rocky attended culinary school in New York City, and this career allows her to combine her passions for life at sea, traveling, and cooking
Danny Zureikat
Season: 1, Below Deck Mediterranean
Role onboard: Deckhand
Remind us what he did wrong?
It wasn't that he wasn't committed to yachtie life, but he definitely let his lust for charter guests get in the way of his professionalism, pulling stunts like disobeying a direct order from Captain Mark Howard to give a love poem to a guest. He was also always on his phone. In the end, Howard fired Danny after he seriously annoyed him and the other crew members, calling Zureikat untrustworthy.
Where is he now?
Danny told Bravo that after being fired he stayed in yachting, nowadays working as a freelance deckhand/engineer. However, he is also interested in pursuing further TV and film opportunities – before Below Deck Danny worked as a model, don't you know.
It seems that no matter how much drama you cause on the show, you can always get a second chance in the real world. However, is five minutes of fame really worth all the work you have to do to redeem yourself if you do mess up?
Advice from the pros
We spoke to Lauren Cotton of yacht crew agency Cotton Crews, specialising in staffing some of the biggest and best superyachts in the world, to get her professional view on yachties going on Below Deck:
"Our advice is always to conduct yourself in a manner that you could still get hired after the show if you choose to stay in yachting. That's what we tell the candidates from our crew housing who are interviewing for the show.
The problem is that everything you're doing is out there for show. If you mess up and make poor decisions, it's there for everyone to see, and it's hard to hire someone after you watch that on the TV. Even if the Captain or Owner of your next yacht doesn't watch the show, yachting is a small community and one quick Google will show them everything you did.
If you think you'll be able to conduct yourself properly then there shouldn't be a problem, but bear in mind that it's a very stressful environment, meaning mistakes are easy to make."
So, if you're serious about your yachting career then proceed with caution!! And if you do go on the show, maybe set your social media to private so that your profiles can't be stalked by everyone in and out of yachting.
Now that we've got to the bottom of whether Below Deck is real and whether people really get hired after it, let's sit back and watch the season four drama unfold.