Wearing a suit as a man may not feel like the most comfortable thing. However, most people do agree that a suit looks great on almost everyone. Women love a man in a suit and it has even been said that a man in a suit is, to many women, the equivalent of women wearing lingerie to men.
Of course, as with any other outfit, wearing a suit is something that is enhanced a lot by the accessories you wear with it. While men can wear jewellery, in general, the only jewellery men wear on a daily basis, or with their suits, is a watch. As such, pairing the watch with the outfit is fairly important in achieving a complete, suave look.
Leave the Smartwatch at Home
In the past, it was always considered a little bit tacky to pair a sharp suit with a digital watch. This may seem like fashion advice from the '90s, but it actually still holds true. Fitness devices like the Fitbit and smartwatches like the Apple watch or Samsung Gear are great devices, but they simply don't look smart with a suit and can make you look less classy than you were intending.
If you love your smartwatch and really must wear it at all times, then at the very least, it is a good idea to invest in a leather strap for it. Many models have changeable straps so you can do this.
In general, though, it is best to wear a quality analogue watch with your business and evening wear rather than a tech device.
Choosing a Watch
As we have established, an analogue watch looks classier with a suit than a sports watch or smartwatch, so you now need to think about how to pair the watch with the suit you have in mind.
A high-end watch like a Cartier, Rolex, or Omega may or may not be something you can afford, but it is worth considering that there are pre-owned luxury watches out there that may well cost less than the suit you are thinking of wearing them with. Many will serve you well for years to come while looking great.  The Wittnauer Chronograph is a great example of this.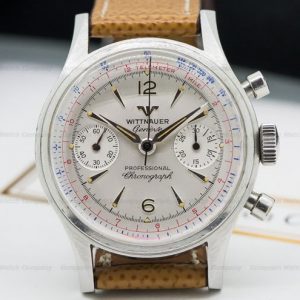 If you are ready to buy a luxury watch or you already own several watches but are wondering how to match them to your suit of choice for an event, read on!
Pairing Metal or Leather Colours with a Suit
As with any other clothing, if your suit is black, any colour of metal or strap will do. This doesn't mean a neon green sports watch will look right, but it means you don't have to worry if you have a gold, silver, or snakeskin strap on your watch. If it is a good watch, it'll still work really well.
However, if you are planning to wear a grey suit, the colour of metal becomes more important as gold is likely to clash. This is also the case with navy blue.
In fact, with anything that isn't black, gold can look wrong. It is generally better to choose grey metals like silver, white gold, titanium, stainless steel, and platinum rather than yellow metals like gold, or gold plated metals.
Equally, if you opt for a leather strap as opposed to a metal link one, colour can be a major factor when choosing a watch to pair with your suit. Brown and black tend to work well with most outfits.
You can find some pretty beautiful watches and incorporate them into your smart wardrobe, but make sure that you take into account the colour combinations above.