Over the course of the past few decades, several movies have left their mark on pop culture in a way that is unfathomable.
Even after years of their original release, not only do these flicks have managed to retain the love of their original audience but have also snagged a younger fan base that just keeps growing with time.
When taking a look at the list of such movies, the name of Jurassic Park is one that keeps popping up.
From dinosaurs to jump scares, and from action-packed chase scenes to breathtaking locales, the movie had all the makings of a blockbuster, and it did not fall short of the expectations built around it.
With 91% critics approval at RottenTomatoes and a box office of $1.02 billion, the 1993 movie is now seen as a critical and commercial powerhouse, and has a massive fan following that still invests heavily into movie related merchandise and fan events. Not to mention, most of the original audience now have kids of their own, and introducing the younger generation to this cherished experience remains a big parenting milestone for pop culture aficionados.
That is why, with its 25th anniversary special re-release on September 16, 2018, it seems like a fitting time to see how we can celebrate this cinematic wonder in order to pay it a fitting tribute not just for itself, but also for making movies such as the Jurassic World franchise possible (we are pretending like Jurassic World III never happened).
So if you are a fan of the former emperors of the Earth, then these three ideas would be fitting for your Jurassic Park tribute while also giving you and your loved ones plenty of reasons to smile.
Visiting the Jurassic Park Locations
While this may sound too good to be true, it is actually possible to visit the locales showcased in some of the most iconic scenes from Jurassic Park.
Many locations were involved in the big-budget blockbuster's shooting; however, only a few of them remain accessible as vacation spots. Out of them, Dominican Republic is one of the most viable choices due to its stunning locales and marvelous beaches.
All that you would need is a plan to visit and a place to stay in the Dominican Republic where some of the most breathtaking moments of the movies were shot.
Since Dominican Republic is often considered as a prime vacation destination in the Caribbean, you can ensure to find plenty of activities to enjoy the time with your loved ones while also enjoying the feeling of nostalgia that would come from visiting the lush green lands of Puerto Plata, where the movie's dinosaurs came alive.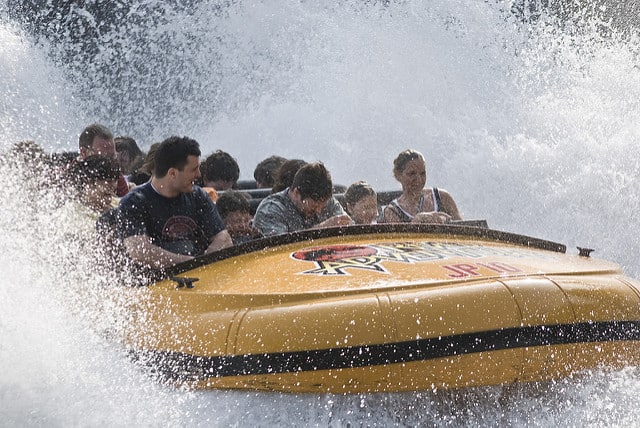 Cooking Up Jurassic Park Themed Foods
If taking a vacation is not on cards for you at the moment, then it does not mean that you cannot enjoy Jurassic Park to the hilt.
With these Jurassic Park themed recipes, you can ensure to turn any weekend movie night with loved ones into a Jurassic affair. From crumbly cookies to delicious cakes, you can serve up a whole spread of Jurassic Park themed foods without breaking a sweat.
Pro tip: Some of the most popular Jurassic Park themed recipes call for a drawing of the unique logo. You can actually transform most traditional dishes into a Jurassic park themed food just by learning to trace a stencil through icing.
So get those hands in motion and cook up a Jurassic feast, which could serve as your go to foods while running a marathon of the franchise.
Wearing Jurassic Park Themed Clothes
This is by far the most laid-back method to show your allegiance to the dinosaurs. Since the franchise is so popular, it is fairly easy to find themed clothing and accessories on various online and even walk-in stores.
All that you need is a sense of geek-style and you can rock a simple Jurassic Park logo t-shirt or a quirky Jurassic Park onesie with elan. With the choice of options available, you can have a blast selecting the clothing that fits your personal style while paying homage to the great reptiles.
With Halloween just around the corner, you can actually find some good deals on various stores and some unique picks that are available only at this of the year.
Don't Forget to Have Fun, Though
There you have it, from exquisite vacations to fancy threads, you have all the options at your disposal to pay a fitting homage to Jurassic Park. However, whatever you do, make sure not to pressure yourself too much and only make choices which let you have fun without stressing you out.
Stress didn't do those dinos any good, after all.