Dressing for spring is rarely easy. The weather is constantly flipping between sunshine and showers, meaning that what we put on in the morning doesn't necessarily complement the afternoon.
What you need is an SS18 style guide packed with in vogue trends for the spring fashion season. From how to layer in daytime to what to wear at night, we have your style choices covered.
Kaleidoscope colour schemes
Winter's been banished and the warm days are back. Now is the time to push cool colours and autumnal tones aside for bright, bold and beautiful shades that make even the simplest of outfits pop.
SS18 fashion shows were bursting with primary garments that seemed to almost walk themselves up the catwalk, from the tomato red dresses of Preen to the canary yellow gowns of Balenciaga. To replicate, colour yourself gorgeous by emboldening your look with a dynamic shade — like electric blue, acid green and tangerine orange. Either splice your shades together in the form of striped tops and checked skirts, or wear them in blocks — think cobalt tapered trousers with a scarlet shirt or mustard culottes with a turquoise cami.
Lilac is also going to dominate the spring colour palette, so make sure to infuse your seasonal wardrobe with plenty of this shade.
Bring back the '80s
Pouf skirts, power suits, ruched tops, and lashings of denim; SS18 is rewinding the clock and dousing itself in '80s glamour.
To nail this trend, you want to create an outline of emphasised shoulders, nipped in waists and lean legs. During spring days, opt for high-waisted, light-wash jeans and square-shoulder blouses, and at night, go for a top-heavy, ruched-velvet dress enhanced with hoop earrings. Be prepared for an incoming of parachute pants, turtleneck sweaters, waist belts, unapologetic prints, and puff sleeves. If you're lost, take inspiration from Anthony Vaccarello's collection at Paris Fashion Week SS18.
Light fabrics for light evenings
Seasonal trends aren't only about clothing style and colour: you have to consider fabric weight. As the days and nights warm up, incorporate less heavyweight materials into your wardrobe — in other words, ditch the wool coat for a cropped, suede trench and sub you faux-fur-lined jacket for a chiffon kimono.
Lighter fabrics also usually give us a more undefined outline that can flatter all body types, and luckily, the soft, floaty silhouette is another big SS18 trend we have to look forward to.
2018 vintage flower power
Get ready to bathe in an ocean of florals this coming season. SS18 fashion shows almost across the board went mad for patterns powered by petals — but don't go too bold, SS18 will adopt a subtler, more vintage approach to florals.
Check out the SS18 catwalks of Erdem and Dolce & Gabbana; using soft pastels and intricate patterns, they nailed the spring-ready floral trend. Go for high-neck tops and traditional tea dresses — similar to Emilia Wickstead's range — and opt for time-honoured fabrics, like silk and brocade, to pinpoint the vintage floral look in time for blooming season.
Learn to layer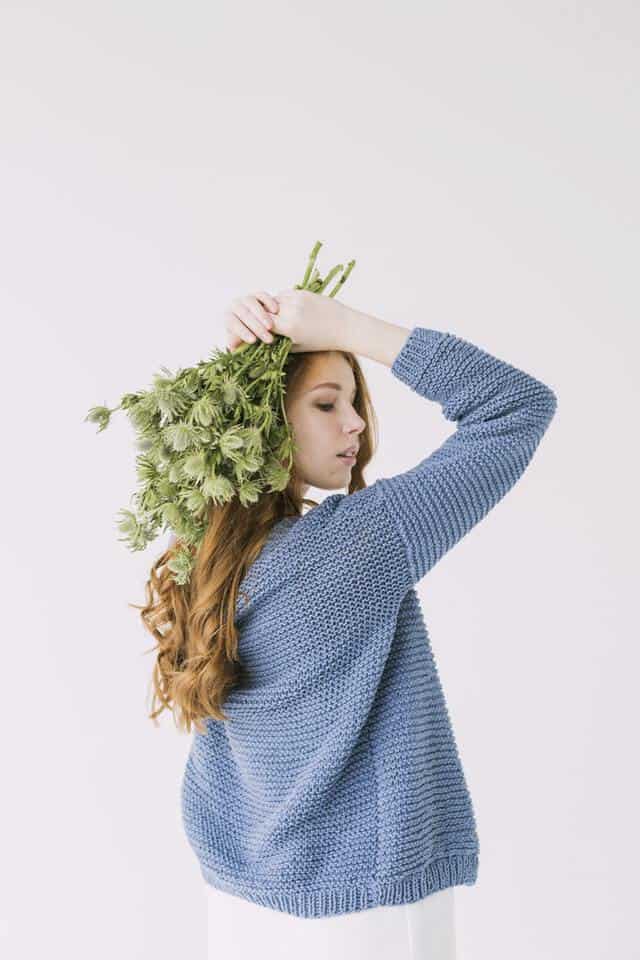 As we mentioned before, spring can be a tough season when it comes to self-styling. How do you dress for breezy, sunny and showery days?
The solution is layering. If you're a creative dresser, layering your staple wardrobe pieces opens a world of untapped possibilities. Just remember that the finesse of layering is being able to mix and match fits and shades flawlessly. Channel the colour-blocking trend we mentioned earlier and build a multi-layered outfit out of contrasting hues — perhaps an ivory shirt under an emerald sweater finished with a fitted black blazer, boxy red mac and navy jeans.
Next, you need to consider the shape of your layered choices. Don't opt for all loose and billowy clothing, but similarly, don't pull on fitted pieces with each layer. To make layering an art in spring 2018, you need to contrast your fittings. Go for a bralet that hugs your body then pair with culottes, flares or wide-leg trousers. Slip on a sheer wrap top over your bralet and top-off with a cropped silk, loose-fit kimono and tailored tuxedo jacket. These pieces all work perfectly together, and you can add and remove as the day and evening elapse to suit the dress code and weather. Some designers have even sent their models down the catwalk wearing voluminous tulle skirts over skinny-fit trousers, again showing that mixing outlines is key to this growing fashion trend.
Fabulous fringes
Where AW17 had feathers, SS18 has fringes. From the jackets of the SS18 Bottega Veneta to the dresses of Calvin Klein, fringe hemlines are going to be swinging everywhere this coming season.
Everything about SS18 seems to be taking fashion to the max — consider the technicolour outfit palettes and striking '80s-inspired silhouettes. Fringed clothing is just another weapon in the season's arsenal of flawless spring-wear. Ditch clean-cut handbags for fringed alternatives and enhance your evening dress code with long, flowing fringes that swing in sync with every step. More dancefloor-diva chic than festival-girl boho, SS18 fringes are made to enhance, not just accessorise. Get yours in a long, luxe fabric and remember, the greater the swing, the better.
Checkmate
Plaids and tartans aren't just for the AW season anymore. Designers are now investing in versatile prints that we can wear and repurpose as the year goes on — and this is wear checks come in.
Throughout SS18 fashion weeks across the world, the plaid pattern adorned almost every outfit scenario. From the trenches of Burberry to the dresses of Fendi, checks came in all sizes and shades, which means you should keep an open mind when it comes to selecting your ideal check colour for SS18. For example, Loewe offered a stunning, dip-hem dress featuring baby pink and blue checks, while Alexander McQueen took a harsher line with bold red and contrasting white plaid patterns.
Springtime suit shorts
Since SS18's '80s trend is going to play such a great role next season, we've dug deeper into how you can reinvent the look.
During the day or for off-duty events, you might not feel the '80s-inspired trouser power suit is the look you want to go for. If that's the case, find your powerbase with shorts, instead. Forget limiting your wide-shoulder blazer to tapered trousers, spring 2018 is going to salute knee-length shorts that you can pair with tailored jackets and ruched chiffon shirts for a power-ready vibe that is warm-weather appropriate. At SS18 fashion shows, Off-White did power shorts gorgeously in pink before polishing the look off with an open collar shirt, while Balmain went more office-focused with on-trend checks and a monochrome palette.
Dressed-up athleisure
We only have to check out snaps of Rihanna and Ariana Grande to see that athleisure is now an embedded trend in current women's fashion. So, what will SS18 bring to the table?
This spring, it's all about athletic-inspired clothing ­— especially the two-piece tracksuit. But don't just throw it on with anything. The mood is changing around sportswear and now, we're being encouraged to think outside the box by fusing out athleisure gear with glamour-focused accessories.
Stillettos and sportswear strutted to the forefront of all SS18 fashion weeks. Wear your joggers and cropped top with high heels and statement jewellery, and you have a look poised to take spring 2018 by storm. This also works the other way. Go for sneakers or cute plimsolls and dress them up when the warm weather hits with a floral dress or checked skirt. Striking the balance between casual urban and dressed-up chic is essential to nailing this in vogue look.
Spring-ready accessories
We've done clothing, so what about accessories? SS18 is driving the trend for bumbags and belt bags. Don't believe it? Check out Gucci and Balenciaga's SS18 show. To keep in line with the power of the '80s, opt for waist belts that pull you in for that iconic Dynasty-esque silhouette and put the final stamp on the look with over-the-top earrings.
Chic and sleek umbrellas are essential during April showers, while cat-eye and tinted aviator sunglasses will be the style-of-choice as the sun gets more sociable in May. As for shoes, bring out the espadrilles and flatforms for daytime drinks, then get ready for sunny evenings with wedges and open-toe heels.
Revamp your wardrobe with these key SS18 trends and get ready for in vogue looks that will carry you flawlessly at every occasion.