A place of emerald seas, tranquil archipelagos, powder white sands and glamorous marinas, Sardinia is one of the world's most exclusive yachting playgrounds.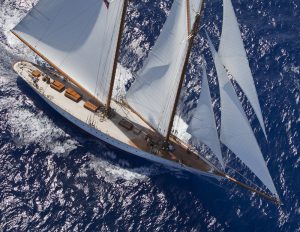 Yacht Charters in Sardinia
A Sardinia yacht charter promises long sunny days spent splashing in crystal clear seas, followed by balmy nights dining under the stars at anchor, dancing on the sand at sophisticated beach clubs, or mingling with the jet-set in the glittering resort towns of Porto Cervo and Porto Rotondo.
Sardinia is the Mediterranean's second largest island; as such, it has a huge coastline to explore, from the towering sand dunes and pretty river towns of the west coast to the flamingo lagoons and golden surf beaches of the south. The ultimate Sardinia yacht charter destination, however, is the famed emerald coast: the Costa Smerelda and the breathtaking Maddalena islands to the north of the island.
Otherworldly Islands
The Maddalena archipelago rises out of the translucent sapphire water like a mirage: seven breathtakingly pretty islands of towering boulders and soft-sanded beaches, quiet harbour villages, and wildflower paths. Once a haven for pirates and smugglers, these islands are now a yachting paradise, with many of the beaches only accessible by boat.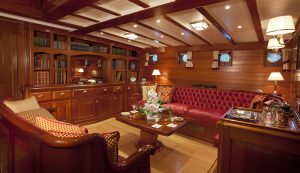 An Exclusive Hangout
Back on Sardinia's mainland, Porto Cervo is one of the hottest A-list destinations on the planet, with a designer village of fine restaurants, couture boutiques, and a glittering nightlife. It overlooks the superyacht marina, where the greatest yachts in the world compete to get a berth in the high summer months. A Porto Cervo yacht charter offers a gateway to the Costa Smerelda's superb beaches, clifftop golf courses, and the sophisticated beach club scene at Phi Beach.
High Luxury in Porto Rotondo
Further down the coast, Porto Rotondo is another of the great luxury destinations of Sardinia, with a high-end dining and party scene centred on an elegant superyacht marina. When you've had your fill of day spas and boutique shopping, it's time to visit some of the most stunning beaches of Europe.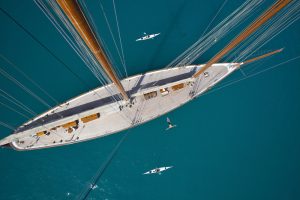 Breathtaking Beaches
It's hard to choose the most perfect beach at which to drop anchor during your Sardinia yacht charter. As you float along the Emerald Coast on your luxury yacht, you'll drift past little cliff-lined coves of perfect beauty, and blue grottos and caves carved into the rock. Liscia de Vacca draws the superyacht crowd with its pink granite boulders, golden sands, and turquoise seas, while Spiagga di Mannena delights with its idyllic swimming lagoon. Further south, the enchanting beach at Biderossa is situated in a marine park, surrounded by huge honey coloured cliffs that are decorated with caves and rocky archways through which charterers can kayak and swim. Elsewhere, Cala Luna and Cala Fuili continue to astonish with their sugar-white sands and beautiful setting.
S/Y ELENA
Sailing Sardinia's sapphire seas on a luxury yacht charter is one of the Mediterranean's greatest experiences. For the ultimate sailing vacation, the stunning 55.00m S/Y ELENA marries the best of classic yachting with modern superyacht luxuries. Built in 2009 to the original Hereshoff 1910 design, this superb gaff-rigged schooner accommodates up to eight guests in a stately mahogany interior, with two light-filled double staterooms and two twin staterooms. S/Y ELENA has race-winning sailing performance, expansive deck space for dining and relaxing, and a wide range of watertoys for fun on the water.
With crystal clear seas and astonishing beauty all around, you'll never forget your luxury yacht charter in Sardinia.