A 'man den'- traditionally a place in the home where you are liberated from the stress of life and is a little piece of utopia away from other people which you can claim as your own. You may already enjoy the space of a home office, but with phones ringing and family members wanting your time, it's hardly a place for contemplation, relaxation and a way to shut out the world.
The beauty of a man den is that it can be converted from any empty space. So if you don't have an extra room indoors to put your personal stamp on, it's time to think outside the box. Outside is – literally – the word to consider here. With the use of some gadgets, top technology, basic DIY skills and creativity, you can turn part of your outdoor space into a zoned-off man den. Once completed, escape to it with your favorite snacks and drinks and settle down for some well-earned 'you' time.
Create your dream space
The first step is to create a space where you can – figuratively perhaps – close the door on everything. You'll need to stake your claim on a section outdoors – the unused garage perhaps, a dusty building or if all else fails, a section of the garden you can construct privacy through a DIY-constructed shield.
If you're using an existing space such as a barn, clear it out and organize the modifications. You'll need power, heat, and insulation. If you don't have this luxury and no budget for a garden room to be built, fear not. Screening with long runs of the trellis is your savior; once it's secured into the ground you can be lined it with vines and fast-growing climbing plants. Divide further using outdoor curtains to create rooms within a room, and you have the makings of a restful place to sunbathe and chill out.
Time for technology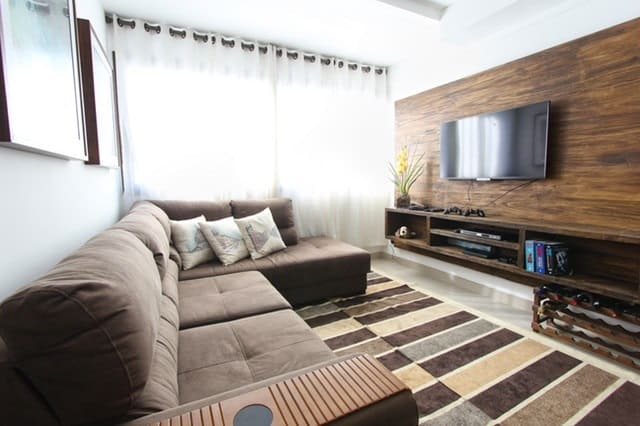 Now you have a habitable den, it's time to accessorize. Gadgets are at the heart of many a man, and a man den is the perfect way to indulge that passion. You'll need to have a TV to see those vital end of season games so mount it securely on the wall. To weatherproof it and secure it from opportunist thieves, check out outdoor TV cabinet for flat screens.
Constructed from a steel frame and polyethylene plastic case, it's lightweight yet will withstand literally anything that's thrown at it. Glare-proof from the summer sun, it will also fully protect your TV from the rain and even the snow. It's secured with two metal chambered and keyed locks so it's safe from vandalism or anyone deciding they want to tamper with it. The TV Shield has enclosures suitable for LCD, Plasma and LED models up to 80 inches so team it with a new to market TV or existing TV.
Every man needs soft furnishings
OK, so you may not want to have rows of delicate pastel cushions in your man den – although it's fine if you do, but you certainly need somewhere comfortable you can relax in style. Treat yourself to an outdoor sofa or perhaps a bean bag and you're ready to watch TV, read or get into your favorite hobby. You can have a small chiller in your den but getting up to it can be a pain when you don't want to move. An icebox on castors is the solution; fill with ice and top with your drink of choice.
Even with electrics installed you'll want to keep the bills down so some solar spotlights are the money-saving natural choice for outdoor spaces. There are lots of designs to complement any man den design and all run with a small panel attached which turns the sun of the day into the light at night.
So now you have everything you need to get away from it all. Space, power, heat, TV, and furniture. Time to turn off the phone, slip out the back door and not let anyone know you're heading to your man den for a few hours – you deserve it.